End Time Wisdom? Blessed Are The Balanced!
As is the case with many topics, the devil loves to polarize our view points.  Knowing the extremes on both ends are generally wrong, the devil will polarize our view points to fracture our unity and distract us from the Truth.  
Many are making a mockery of Mr. Harold Camp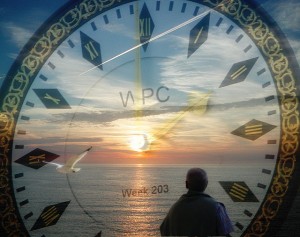 ing for claiming the Rapture will occur, well, tomorrow. They quickly (and rightly) site Matthew 24:36 – "But of that day and hour no one knows, not even the angels of heaven, but My Father only".   Mr. Camping has been so bold as to not only set the date but the hour (6pm EST) also!  Indeed, he is not merely terribly misguided but a false prophet. 
But in response to Mr. Camping's claims, I hear many Christians swinging to the opposite extreme.  They will say that we are to know nothing of the time, completely dismissing very valid signs all around us that the end time prophecies are being fulfilled right before our eyes.  (In fact, Mr. Camping and his prediction is one such sign in and of itself!  Matthew 24:5 & 23-24).  While they acknowledge that Jesus will in fact return "someday", they disavow our ability to have any specific knowledge of it.  They poke fun at men like Camping and go about life as usual.  The tragedy here is that we loose all sense of urgency and even awareness. 
Those in the "we cannot know" camp, do precious little but give lip service to His "eventual" return while continuing to live as they always have.  Is there any wonder the church (in America at least) has lost nearly all points of reference for holiness?  Just because we cannot know what we are not meant to know, do not forsake knowing what we ARE meant to know!  Recently, I even heard a dear saint proclaim, "I just want Jesus to surprise me!" The Truth is, while we may not know the "day or hour", neither are we to be caught by surprise!  The Bible tells us in no less than a dozen places that the wise will recognize the season of His return and the righteous are NOT to be caught by surprise. 
We are meant to recognize and understand the "season", figuratively speaking, of His return which is specifically defined in the Bible.  Can we understand everything perfectly? Of course not.  Can we preach the events preceding His return with a zero margin of error? No.  But, virtually every prophet in the OT mentions His return not simply in general terms but in specific terms.  Likewise, in the NT, virtually every writer gives specific details as to the "end times" and the "day (time) of the Lord".  
Jesus, Himself said: "Behold, I have told you in advance."  He scolded the Pharisees in Matthew 16:1-3 and His disciples, (and therefore us) in Matthew 24:32-33; Luke 21:28; and Mark 13:28 for not properly discerning the "season".   Very, very specific Bible prophecies regarding His return are being fulfilled all around us and many Christians are either dismissing these events or are completely unaware of them.  Our unawareness has cost us our sense of true expectancy.
If we truly believe that our Lord Jesus is really returning (and you can trust His Word, it will be sooner than most think) then it will be demonstrated by the way we live.  We will be endeavoring to conform our lives to the image of Jesus Christ, joyfully, enthusiastically and urgently!  I have said before, an intense desire for the day of the Lord shines light in the darkest places, breaks the seductions of flesh, and renews hope in the midst of the greatest desperation.  Our faith is to see what the lost world cannot – and to live accordingly. 
Rest assured I nor Until The Shout Ministries will ever be caught proclaiming a day or an hour.  We will however, encourage believers in the imminent return of Christ by pointing to the signs of the times (as the Bible defines them), fulfilled prophecies, and proclaim the Word of God – Until The Shout!
Blessings,
Brian
6 COMMENTS